Ski Resorts
Batawa Ski Hill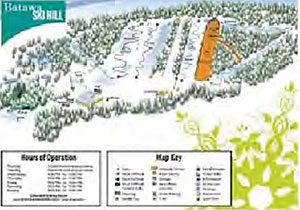 Batawa Ski Hill is First in Canada To Demonstrate Innovative Outdoor Lighting Technology
LED lights from Lumeneering Innovations improve nighttime skiing, saving energy, helping the environment.
Batawa Ski Hill in Quinte West became the first ski facility in Canada to demonstrate an innovative outdoor lighting system from Lumeneering Innovations of Belleville. The most popular runs of Smokey and Ol Smokey received enhanced lighting, and for the first time ever, the Boomerang run is now lit. Michael Freeman and Michael Walker of Lumeneering Innovations joined Andrew Rusynyk of Batawa Ski Hill for a press conference and VIP preview oat the venue today just before its season opening on December 14, 2013.
The state-of-the-technology lighting emitting diode (LED) enhancements achieve the following:
Cut hydro bills by about 75% because the 42 new LED light fixtures are projected to use a total of 8,400 watts of power per hour of use, as compared to 36,000 watts if they were traditional fixtures
Last 3 times longer than traditional lighting since the LED lights are projected to last at least 15 years as compared to 4-5 years for traditional alternatives
Create better, safer and more natural looking light due to better color rendering
Enhance lighting coverage while newly lighting previously dark areas due to complete system redesign to add as well as replace fixtures
Safer for the environment because LED fixtures do not contain mercury or any other hazardous waste, and the old fixtures were recycled
Better for the environment because new system reduces need for more power plants and landfills
"After an exhaustive search for a cutting edge solution, Batawa Ski Hill selected LED lights that will provide superior illumination on the runs with significant power efficiencies over traditional lights used for night skiing," said Andrew Rusynyk. "This is important as Batawa's overriding goal is to be environmentally and fiscally responsible while providing a quality experience for their guests."
Lumeneering Innovations handled the entire project—from redesign to installation to proper disposal of the hazardous materials in the previous fixtures. "It's exciting to work with market leaders like Any Rusynyk," said Mike Freeman. "Batawa Ski Hill understands the value of doing what's right for nighttime skiers while also doing what's right for our environment."
Batawa Ski Hill was featured in Winter Sports Technology. Read the "Shining Slopes" article here.