SABIC Earns Hydro One Award 
for Lighting System Upgrade
July 20, 2016
Cobourg Ontario Industrial Facility Receives Largest Lighting Utility Rebate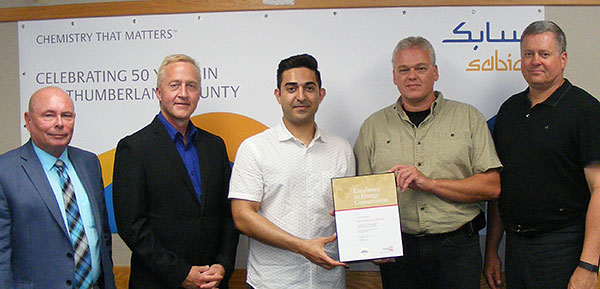 From right to left Paul W. van Laren
Senior Manager Sabic Plastics Cobourg Site
Eric Fernhaut Senior Electrc/Controls Leader
Ali Hoss Conservation Account Manager representing Hydro One
Michael Walker Account Executive Lumeneering Innovations
Michael Freeman CEO Lumeneering Innovations
(Cobourg, Ontario) – SABIC's Cobourg Ontario facility earned a 2016 Hydro One Excellence on Energy Conservation for successfully completing an energy efficiency project with Lumeneering Innovations, and demonstrating exceptional leadership in conservation. The award comes as a result of the savings achieved from a lighting system upgrade that earned SABIC a Hydro One rebate of $64,570 which makes it the largest one ever issued by the utility.
SABIC's Cobourg facility distributes, converts and fabricates plastic products and associated materials for the design and use of aerospace, mass transportation and industrial products in every part of the world. Its Cobourg, Ontario manufacturing plant's outdated lighting system was becoming a significant financial burden. Lumeneering Innovations (LI) developed a new sustainable lighting system with sensor control and light harvesting features, which dramatically reduced energy costs while improving facility productivity.
The lighting system upgrade is projected to result in annual power savings of over $100,000. The upgrade included the installation of over 4,000 light-emitting diode tubes, over 1,000 fixture kits and lamp holders, over 50 LED retrofit kits, and almost 500 occupancy sensors and ambient light harvesting applications.
The award was presented in Cobourg on July 6, 2016 in a ceremony attended by: Paul W. Van Laren, Senior Manager of SABIC's Cobourg Site; Eric Fernhout, Senior Electrical/Controls Leader, SABIC; Ali Hoss, Conservation Account Manager representing Hydro One; Michael Walker, Account Executive, Lumeneering Innovations; and Michael Freeman, CEO, Lumeneering Innovations.
Lumeneering Innovations is a leading supplier of lighting solutions focused on turnkey system upgrades for commercial and community buildings across North America. Industrial facilities and other businesses across Ontario are working with Lumeneering Innovations to take advantage of the saveONenergy program offered by the Ontario Power Authority and local utilities. Lighting system upgrades can dramatically cut energy bills every month, and many projects often qualify for utility-sponsored rebates to help offset the upfront expense. For a free lighting system analysis of your building, or to learn more, visit www.lumeneeringinnovations.com or call 888-509-9778.