Aladdin LED Panel Offers Easy, Low-Cost Lighting Upgrade
July 06, 2017
• Free Product Samples Amaze Ontario Retailers, Offices, Hospitals, Property Managers
• Electricians Increase Profits Due to Easier Retrofit Installations

(Belleville, Ontario) – Businesses with outdated lighting systems are discovering that the Aladdin LED from Lumeneering Innovations magically transforms existing light fixtures into high-efficiency Light-Emitting Diode (LED) systems with enhanced quality of light with lower energy and maintenance costs.
Quinte Health Care Belleville and others are deploying the product, and A & E Ceramic Tile & Marble in Belleville, Ontario is the latest business to transform its entire lighting system to Aladdin LED panels. A&E is a family tiling business that has been committed to quality and service since Elvis Leonarduzzi's father, Armando, started tiling decades ago. Elvis recently retrofitted 23 fixtures from 131-watt fluorescent lamps to 34-watt LEDs in his tile showroom. The upgrade earned a Veridian utility rebate of over $800 and the system includes an industry-leading five-year product warranty which means a maintenance-free system.
"I couldn't be happier with how bright and cheery our store looks now," says Elvis Leonarduzzi. "The new lighting is so natural-looking that our tile inventory shows its true colors. The difference is amazing from the showroom to the warehouse of to our offices. I needed to upgrade my store's lighting system so that customers could see our tile in natural lighting the way it would appear in their home. I'm embarrassed to say that our old lighting was so bad that everything looked yellowish-green. When shoppers walked outside to the parking lot to see what the tile really looked like, I knew we had to take action. I was looking for way to cut our hydro bill and the rebate from Veridian was a key driver in our decision."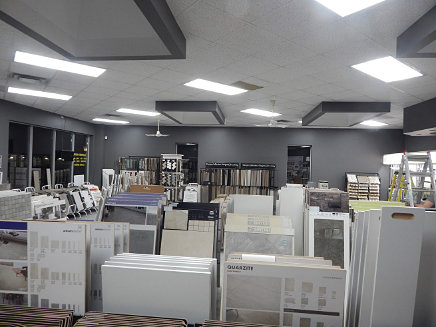 Aladdin LED panels may be purchased directly for self-installation, but Mr. Leonarduzzi chose to have them installed by Lumeneering Innovation staff. "The installers were great people, very professional," says Elvis. "They completed the entire installation in just one night without disrupting my business. The folks from Lumeneering Innovations first contacted me about 2-3 years ago. Back then, the retrofit would have required disrupting my business to remove the old fixtures. When they returned to tell me that could use my existing fixtures with their new Aladdin LED panels, it was a no-brainer to make the investment to get both natural lighting and energy savings I can't describe what the new atmosphere the better lighting has created among my employees as well as my customers. With the new Aladdin LED panels, the decision to upgrade should be a no-brainer for any retailer like more who depends on showing his product at its best. I'm proud to be among the first businesses in North America to benefit from this new product."
Aladdin LED panels deliver up to 4,300 lumens using 50-70% less energy than traditional fluorescents with a guaranteed life of over 50,000 hours. Best of all, the panels can be installed by one person in less than 5 minutes by simply wiring to the existing ballast inputs which is simpler than replacing the existing ballast and lamp. The panels are available in 2×2 or 2×4 modular formats and may be installed in any combination to meet your specific lighting upgrade requirements. The panels qualify for all electric utility rebate programs to reduce the upfront investment resulting in faster payback periods.
Lumeneering Innovations is so sure that the Aladdin LED will amaze you that they are offering a limited number of free samples to qualified businesses. To request a free sample along with the location of a supplier near you, or to become a distributor, visit www.aladdinled.com. Aladdin LED lighting upgrade products from Lumeneering Innovations are available for purchase from Robertson Electric locations throughout Canada. Distribution areas in the United States will be announced soon. Product photos and details as well as an installation video and customer testimonials are online at www.aladdinled.com.
Lumeneering Innovations (LI) is a leading supplier of Intelligent Lighting Solutions to upgrade existing lighting systems with new high-efficiency Light-Emitting Diode (LED) lighting systems. LI operates two company divisions: a manufacturer focused on the Aladdin LED lighting upgrade product line and a turnkey system provider focused on upgrades for commercial and community buildings across North America. Learn more at www.lumeneeringinnovations.com.